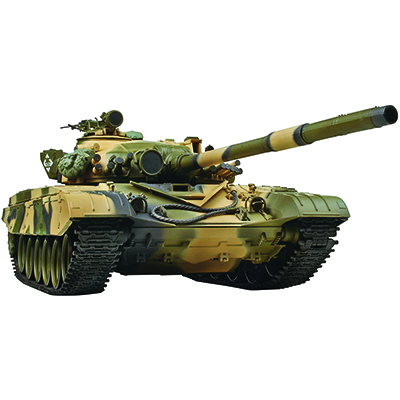 $ 249.99 $ 179.99
1/24 Russian T72M1 Service Camo 2.4GHz RC Tank
VSKC2042
TECH NOTES
This is the VS Tank VSP electric powered, 2.4GHz radio controlled, ready to run
1/24 scale T-72 M1 Tank with Infrared Battle System.
For ages 8 and older.
FEATURES: Forward, reverse, left and right real-life movement
Three forward speeds, two turning and pivot speeds, one speed for
reverse
Turret rotates up to 330° and can also rotate while tank is running
Turret gun moves up and down with a range of approximately 20° and
recoils after firing an infrared beam
Cannon shoots infrared beam 26ft (8m) indoors and 20ft (6m)
outdoors in sunlight
Up to 16 tanks can engage in battle at once, target is a sensor on
top of turret-hitting sensor stops tank for 3 seconds with flashing
lights and sound effects to indicate when tank was hit
Painted driver figure and machine guns can be installed to add detail
All-wheel suspension and rubber caterpillar treads tackle rugged
terrain as well as up to 30° inclines
2.4GHz transmitter with microprocessor controls for forward and
backward speeds tank turns, turret turns and cannon up/down
INCLUDES: T-72 M1 Tank with 2.4GHz transmitter, commander
figure, machine gun and instruction manual
REQUIRES: 14 AA batteries, 6 for transmitter and 8 for tank
SPECS: Length: 9″ (229mm) Max Shooting Distance: 26ft (8m)
Width: 5.25″ (133mm) Turret's Max Rotating Angle: 330° approx.
Height: 5.5″ (140mm) Turret's Max Vertical Angle: 20° approx.
Weight: 2.6lbs (1,165kg) approx.
Climbing Power: 30° approx.