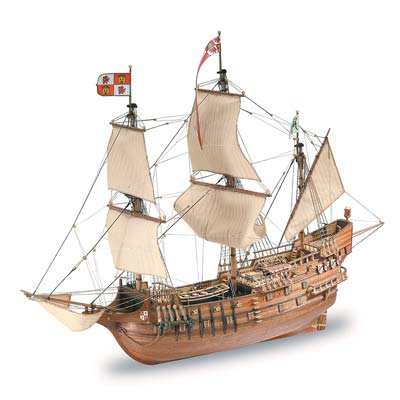 $195.99
1/90 San Francisco II
LAT22452N
TECH NOTES
This is the Latina 1/90 scale San Francisco II Spanish Galleon Kit.
For modelers 14 years of age and older.
The most fearsome ships of the Spanish Armada were her galleons,
sailing ships that first appeared in the middle of the 16th century and
which were, for a hundred and fifty years, the warships par excellence.
The San Francisco II was one of the most outstanding of its age.
FEATURES: Cut and sewn cotton sails
Laser cut construction features birch and sapelly pine veneers
Brass gravure decoration to increase realism
Brass hardware such as blocks, eyebolts, fore-sheet bars, pinracks
and much more
Stand with metal nameplate
Ready to be placed flags
Five metal figures (require painting)
Instructional DVD for PC or Mac computers or laptops
Four colors of thread, brown and raw (pale green) for different
rigging applications
INCLUDES: Latina 1/90 scale San Francisco II Spanish Galleon Model Kit with
Pre-Sewn sails, all Fittings and Rigging, Deck Planking, Hull,
Masts, Bowsprit, four Rolls of Rigging Thread, Flags, five Metal
Figures, Stand with Nameplate, Instructional DVD and Plans
REQUIRES: Contact cement, needle nose pliers, small hammer, hobby knife,
hand saw, hand drill, paint, sandpaper
SPECS: Scale: 1:90 (1ft = 2/15″)
Length: 26-3/4″ (680mm)
Height: 20-7/16″ (520mm)
Beam: 9-7/16″ (240mm)