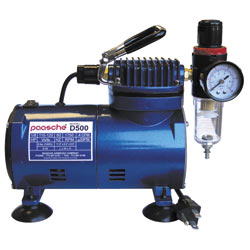 $155.99
D500 Air Compressor w/ R75 Regulator
PASD500SR
TECH NOTES
This is the D500SR Compressor with Regulator from Paasche.
FEATURES: Air compressor with switch and regulator
Features 2.6 CFM (free air)
Economical and suitable for all airbrushes spraying properly thinned fluid.
Capable of delivering 35-40 psi maximum pressure
This is an oil-less diaphragm compressor
Comes with a grounded six foot long 3-wire cord
Operates on 115V, 1 phase, 60 cycle, 1/5 horsepower, 3A
and delivers .5 cfm at 20 psi.
Regulator w/gauge will regulate up to 35 psi depending on usage
(intermittent or constant) and size of airbrush being used.
INCLUDES: One D500SR Compressor with Regulator
REQUIRES: Power Source
SPECS: Horsepower: 1/5
CFM : .5 at 20 psi
psi: 20 – 40 Max. Working Pressure