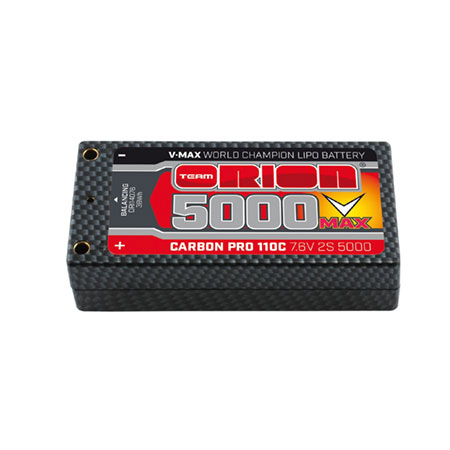 $94.99
V-Max 7.6V 5000mAh 2S 110C Shorty, Tube, LiHV
ORI14076
Desceiption
Team Orion has been producing racing batteries for over 25 years. In the 90's we developed the V-Max process to enhance NiMH battery performance and achieve outstanding results at competitions. Now, V-Max battery enhancement technology is back for LiPo batteries. The new Carbon Pro V-Max LiPo batteries have a higher nominal voltage (3.8V vs 3.7V) and can be charged up to 4.35V/Cell. The higher voltage allows for more performance and more capacity for the same battery size.
Developed by Oscar Jansen and our racing team
3.8V nominal voltage (up to 4.35V/cell voltage)
Extreme power output
Enhanced Energy Density
110C discharge rate
5C charge rate
Heavy duty gold tubes or Deans high current connectors
High quality silicone wires
Robust carbon look hard case
V-Max HV Batteries
V-Max LiPo batteries can be charged using regular LiPo battery chargers but standard LiPo charge programs use a charge end voltage setting of 4.2V/cell, HV LiPo batteries have increased power and capacity by using a 4.35V/cell charge end voltage. This means that to get maximum performance out of these batteries you must use chargers that have a LiPo HV specific charge mode with a 4.35V/cell charge end voltage.
Features
Brand: Team Orion
Application: Competition Car
Capacity: 5000mAh
Configuration: Square
Connector Type: Tubes
Max Charge Current: 5C
Max Charge Current (A): 25A
Max Continuous Discharger: 550A
Max Burst Discharge: 1100A
C-Rate: 110C
Height: 25mm
Width: 47mm
Length: 96mm
Weight: 220g
S / Voltage: 2S – 7.6V
Style: Hardcase
Type: LiPo HV